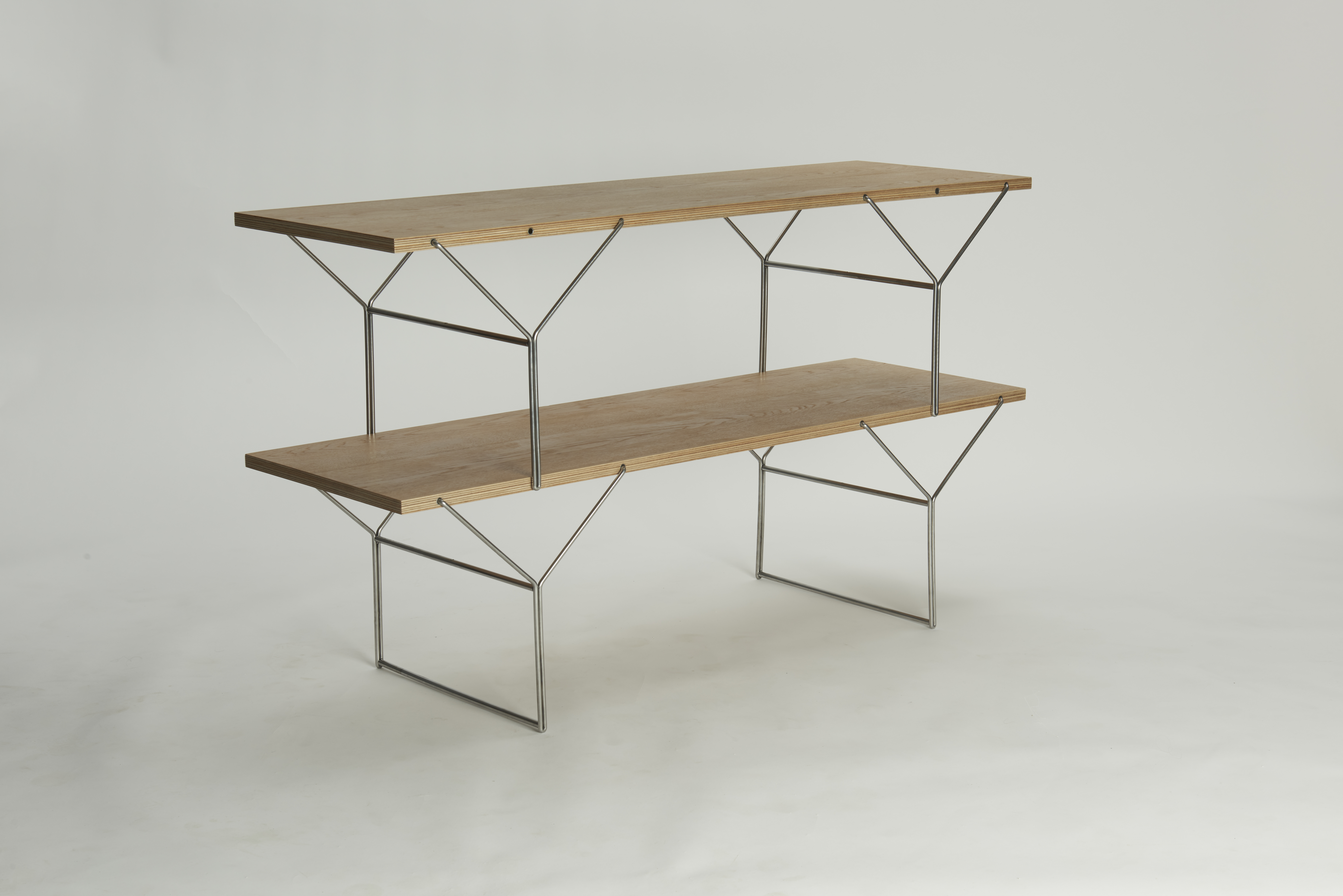 Vant Shelf
is a modular flat pack shelving system. It is based around the idea of opposite screw threads between which you have threaded connecting rod. By turning this rod, the opposing parts pull tighter, or push apart.
By utilizing this simple yet ingenious concept in a piece of furniture, only one turning action is needed to complete the assembly. The modules can be stacked or lengthened as needed, resulting i everything between a single low coffee table, via media furniture, to full ceiling height shelving.
dfdfdfd

Peri Lamp is a lamp at the meeting point between indirect lighting and new technology. A circular armature casts light upon a reflector that then spreads indirect and glarefree light down to a table top or space.



Beak Shelf is a knock-down shelving system for public or private spaces. Beak utilises the flexible properties of beech wood in a disassemblable joint which is easy and satisfying to use, taking the knockdown experience to a new level. The aprons are simply clicked on to the sides and secured in place with wingnuts. The project is a collaboration with fellow designer Hemmo Honkonen.
About
Hampus Penttinen, Swedish designer.

For enquiries contact me at:


info@hampuspenttinen.se




Exhibitions
"Honkonen Penttinen", Stockholm Furniture & Light Fair, 3–7 Feb. 2020
Permanent exhibition, Kosterhavet National Park, 2016-
Ung Svensk Form, Stilwerk Dortmund, 2–30 Jun. 2016
Ung Svensk Form, Stilwerk Düsseldorf, 9–30 May 2016
Ung Svensk Form, Stilwerk Wien, 7–30 Apr. 2016
Ung Svensk Form, Stilwerk Hamburg, 3–31 Mar. 2016
Ung Svensk Form, Stilwerk Berlin, 26 Jan.–13 Feb. 2016
Ung Svensk Form, Röhsska museet, Gothenburg, 16 Jun.–16 Aug. 2015
Ung Svensk Form, Form/Design Center, Malmö 24 Apr.–6 Jun. 2015
Ung Svensk Form, ArkDes, Architecture and Design Centre, Stockholm 13 Feb.–12 Apr. 2015
Ung Svensk Form, Greenhouse, Stockholm Furniture & Light Fair, 3–7 Feb. 2015
"X", HDK exam exhibition, Trädgårdsföreningen, Gothenburg 2014
"Undesirables", Swedish Presence, La Pelota, Milan 2014
"Undesirables", Stockholm Furniture & Light Fair 2014
"Hej kroppen!", Universeum, Gothenburg 2011


Education
KADK, MA Furniture Design, Copenhagen 2018-2020
HDK, BA Furniture Design, Gothenburg/Steneby 2011–2014
Dômen konstkola, Graphic Arts, 2007–2008
Wendelsbergs folkhögskola, Acting, 2005–2006
Other work
Spik Studios, Interior Architect, Gothenburg 2017-
Wingårdhs, Trainee, Gothenburg, 2017
Studio David Thulstrup, Trainee, Copenhagen 2016
Snowshoe Chair.
This project started out as material investigations to find new materials and techniques for sitting surfaces. The findings, through their inate properties, then gave rise to the specific typology of the Snow Shoe Chair.
By cutting patterns into a surface it is possible to manipulate how the same same material stretches and gives. In this case, how a membrane accommodates a body lying down. The result is a reclining chair made of a vegetable-tanned leather membrane over a frame in solid ash wood.